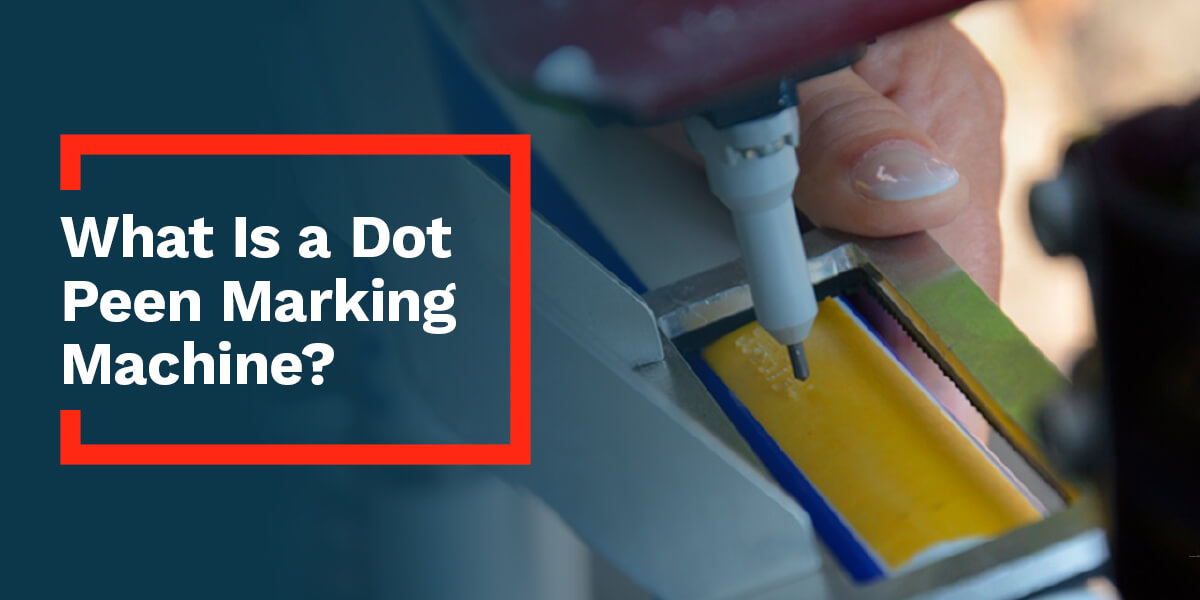 31 Oct

What Is a Dot Peen Marking Machine? 

In today's competitive marketplace, manufacturers need efficient machinery that provides accurate results. A common machine solution for making permanent marks on various materials is the dot peen marking machine. This machine enables manufacturers to mark permanent customer-specific information like serial numbers, barcodes and much more onto their products. A dot peen marking machine creates human- and machine-readable patterns that are impossible to rub off, making product identification and traceability easier.

There are many factors to consider when deciding which machine suits your company's engraving and marking needs. Learn about a dot peen marking machine's capabilities and whether this machine could be helpful in your application.
What Is a Dot Peen Marking Machine?
A dot peen marking machine is used to imprint materials with a series of indentations to form permanent markings. This machine is most frequently used in industrial manufacturing applications when manufacturers need to mark products permanently. Industry standards or legal regulations could require permanent marking instead of printed labels, making a more durable type of marking necessary. Other types of marking equipment, like handstamps and etching pens, are not as efficient and might create poorer-quality markings.
Dot peen marking machines are powerful and versatile enough to mark on a wide range of hard materials, such as structural steel, aluminum and plastics. These machines may be pneumatic or electric. Dot peen machines use a pin to strike the material, creating a succession of dots that form letters, numbers or various other patterns, including:
Part numbers
Serial numbers
2D data matrix codes
Barcodes
QR codes
Company logos
Manufacturers can select from various industrial dot peen marking machines or entry-level dot peen machines, which are ideal for smaller applications. The advantage of the industrial dot peen machines is their ability for greater depth and higher speeds—in addition, some with their multi-pin technology that enables faster operation. For example, the TMM5400 Dot Peen has eight individual pins and can mark up to 16 characters per second. Both industrial and entry-level dot peen marking machines can be enabled for benchtop use, while industrial machines integrate seamlessly into a production line.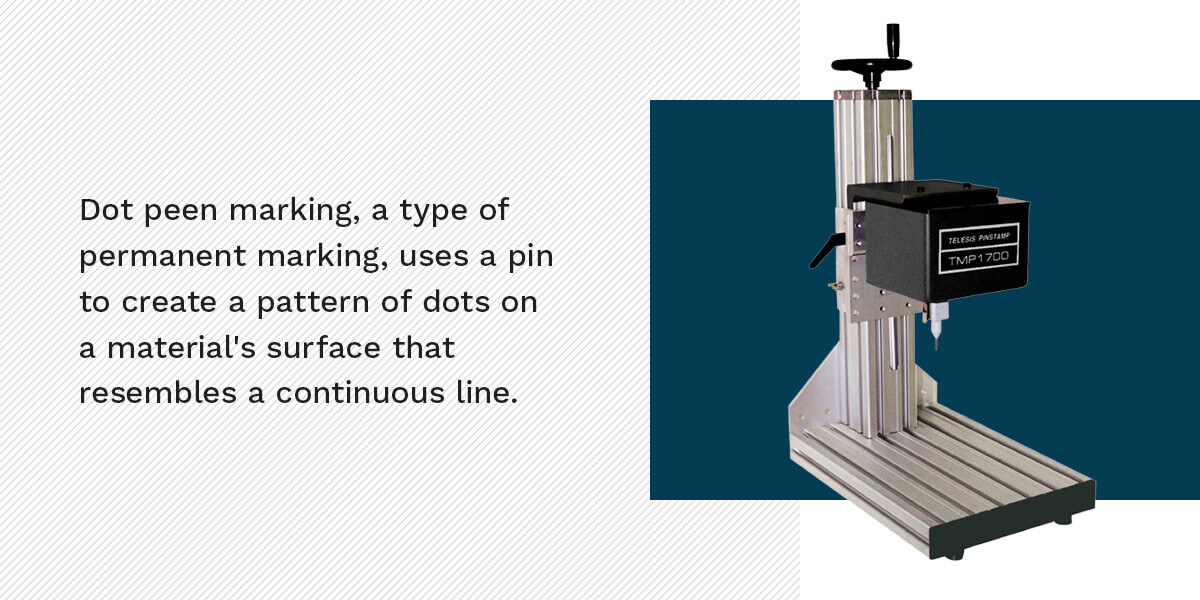 What Is Dot Peen Marking?
Dot peen marking, a type of permanent marking, uses a pin to create a pattern of dots on a material's surface that resembles a continuous line. As the pin moves across the material, it strikes across the material and essentially moving metal in a safe non-penetrating fashion to create a dot…this why it is superior to other forms of marking such as acid etch or even laser that removes metal.
. Each pulse of the pin occurs in a fraction of a second, enabling high-speed operation.
Dot marking is used in various industrial applications, including aerospace and defense, medical device and automotive manufacturing. Consider a few benefits of dot peen marking:
High-speed marking: On a busy production line, every second counts, and machines need to produce fast results to meet productivity goals. Dot peen marking enables high-speed marking because of the machine's programming capabilities. Most dot peen marking machines can mark between four and eight characters per second on average.
Durable marks: Many products in industries like construction, automotive manufacturing, aerospace and defense must withstand harsh conditions. Dot peen marking machines create durable designs by striking the product's surface to a specified depth. This technique creates marks that last and helps prevent counterfeit products.
Dot placement accuracy: One of the most significant benefits of dot peen marking is the accuracy of dot placement compared with other methods of marking. For example, vibro peen marking is similar but has an essential difference. With vibro peen marking, the pin positions the dots based on the pin's velocity as it vibrates and often creates dots with inconsistent depth and spacing. Dot peen marking uses precise pin locations to mark dots accurately and evenly each time.
Use with application irregularities: Dot peen marking can also mark on curved and irregular surfaces. Telesis patented floating pin technology enables the pin to reposition as needed and accommodate surface variations on the material. This technique allows manufacturers to mark curved pipes, tags and more.
What Is the Difference Between Dot Peen and Laser Marking?
You might have encountered laser marking as another popular type of permanent marking, which engraves materials with a design using a laser. The laser beam engraves or anneals the surface to create a high contrast appearance—however, the beam has eye safety concerns that require special glasses or enclosures. Manufacturers can use laser marking to create designs in metals and plastics, as well as softer materials like glass, leather and plywood.
Dot peen and laser marking differ from each other in significant ways, and the best option for an application depends on the product itself.
How Does a Dot Peen Machine Work?
A dot peen machine works by using a pin to strike dots on a material's surface to form the intended design. Here's how a dot peen machine works:
The operator inputs a design: In industrial applications, the operator creates a design and programs the dot peen machine to make the correct markings on the material using the controller. The controller makes operation simpler when a manufacturer needs to mark a high quantity of items with the same markings. A dot peen marking machine's programmability enables crisp lettering and logos using clear dot patterns that humans and machines can read.
The machine powers the pin: When the machine recognizes the design that was input, it begins powering the pin to create the marks on the material in the specified order. Dot peen marking machines are powered by springs or compressed air, with Telesis dot peen systems requiring no spring consumables and drive the pin with air force and air return.
The pin marks on the material: The dot peen machine's pin is typically made of carbide, tungsten carbide or diamond to ensure accurate marking even on the toughest surfaces. The dot peen machine's floating pin technology provides the machine with superior speed and performance.
Find Dot Peen Marking Machines From Telesis Technologies, Inc.
Dot peen marking machines can accomplish a lot, from marking your products with your company's logo to creating permanent serial numbers. When you need reliable dot peen marking equipment for your production, partner with Telesis Technologies, Inc. We manufacture rugged dot peen marking machines and other marking technology to stand up to all of your industrial production needs. From providing equipment and software to offering professional support, Telesis Technologies, Inc. is ready to work with you.
To speak with our experts, fill out a contact form today!