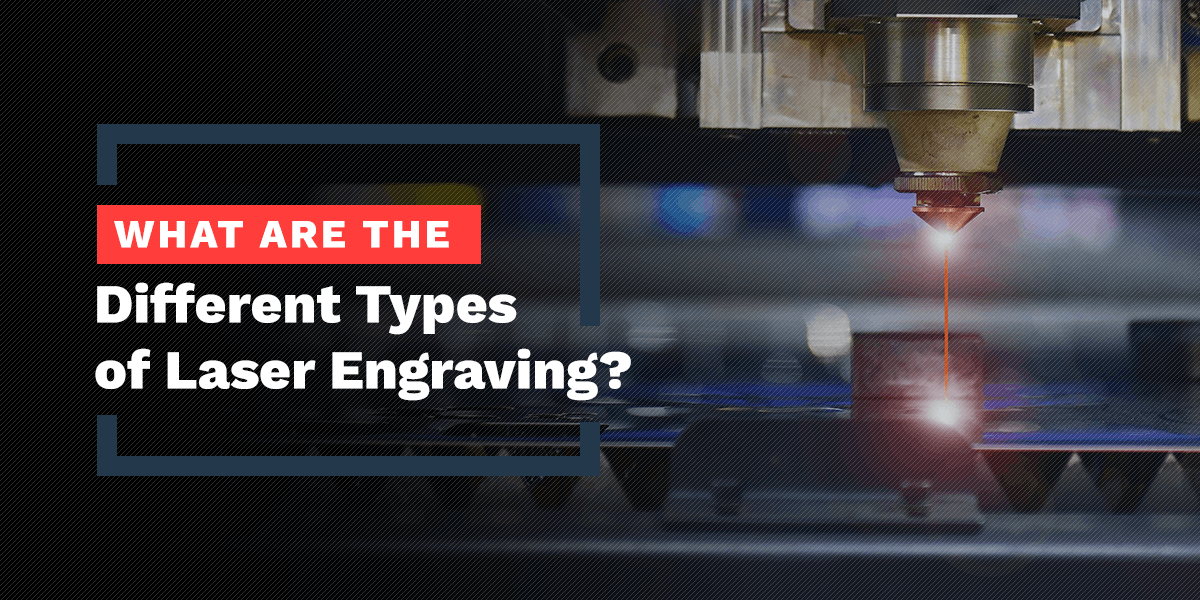 23 Feb

What Are the Different Types of Laser Engraving?

Let's explore the different types of laser engravers and marking processes, the industrial applications of the technology and the materials compatible with these processes.
What Is Laser Engraving?
Laser engraving allows you to creatively design the material with various patterns, shapes and writings. The design is durable and can withstand wear and tear and several surface treatments.
What Are the Types of Laser Engraving Machines?
There are  main types of engraving machines, each with unique specifications and functions. These are:
Dual-head laser system: The system allows you to control two lasers from a single point. Dual-head lasers have double the capacity of one controller, increasing the throughput in repetitive applications. They also save space, reduce handling and increase marking efficiency.
Class 1 laser enclosures: These engraving machines are constructed with industrial-grade materials, making them suitable for a wide array of shapes and sizes. Class 1 laser enclosures can accommodate large and small workspaces and part sizes. They're durable, safe, flexible and efficient.
Unique Laser Marking Processes
Besides the three main types of laser engravings, understanding the different laser marking processes can help you decide which laser marking system best fits your industry. These processes are carbon migration, annealing, foaming and coloration.
1. Carbon Migration Laser Marking
The carbon migration process involves heating the metal or alloy, causing it to chemically bond with the carbon molecules. This brings the carbon properties to the material's surface, leaving dark laser markings behind.
The carbon migration process is faster because it focuses a high amount of energy in small areas at a rapid pace. You can use the technique for metals such as stainless steel, steel and titanium. It's helpful in various industries, including automobiles, aerospace, jewelry and metalworking.
2. Annealing Laser Marking
Annealing laser marking is an oxidation process where heat is applied to the material's surface without high aggression. The process leaves behind a clean black mark, which can vary between red, green and yellow depending on the temperature.
Annealing is typically slower because it relies only on heat to bring the carbon to the material's surface to make the markings. It's best to allow the metal to cool down after heating it.
Annealing laser marking is used in the medical industry for internal tracking and branding. It works on many metals, including iron, titanium, steel and stainless steel.
3. Coloration Laser Marking
The coloration laser marking process produces color to metal or plastic by heating specific surface portions depending on the anticipated outcome. You can achieve the desired shade or color by controlling the pulse frequency and width.
You can use the foaming process for coloration on plastics, as well. Manipulating polymers within plastics can result in varying wavelengths of colors, usually ranging from infrared to ultraviolet. On the other hand, metal coloration uses an oxidation process applied to treated or untreated surfaces. The process offers multiple color schemes, allowing you to get creative with the design.
Lasers used for coloration marking operate at varying speeds, power levels and frequencies.
What Are the Applications of Laser Engraving?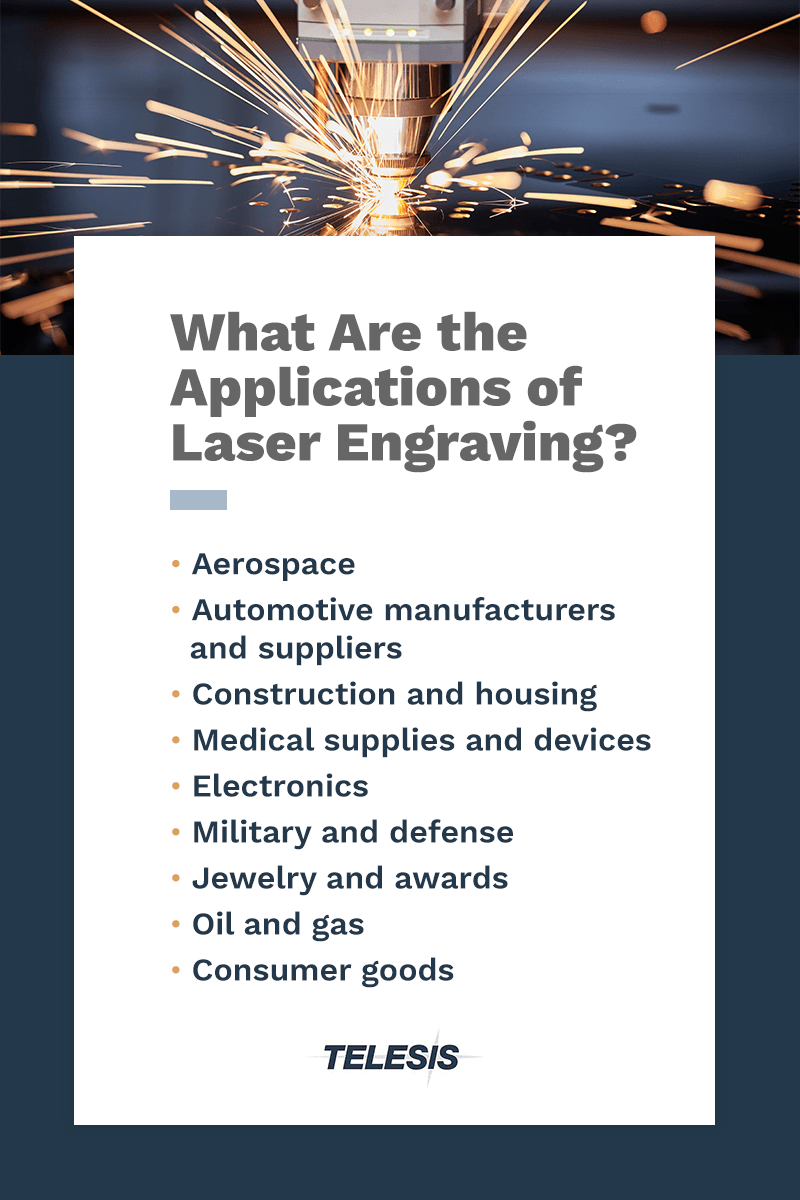 Laser engraving is applicable in various industries, including the following:
Aerospace
Automotive manufacturers and suppliers
Construction and housing
Medical supplies and devices
Electronics
Military and defense
Jewelry and awards
Oil and gas
Consumer goods
The list provided above is by no means exhaustive. The technology is helpful for many purposes, including barcodes, logos and brands, signs, cabinetry, gunstock and data plates. In some cases, laser engravings are valuable for compliance purposes.
What Materials Are Compatible With Laser Engravings?
The technology works on a wide range of materials, such as:
1. Leather
Leather has a positive response to laser engraving. This makes it ideal for creating brands, logos and other inscriptions on belts, shoes, bags, leather jackets, wallets and purses. Laser engravings are suitable for multiple leather types, including:
Suede
Natural
Synthetic
Bonded
Nubuck
Alcantra
Napped
Full-grain
2. Wood
Laser engraving works perfectly on wood. Besides producing some of the finest results, the technique is suitable for several wood types. Examples include:
Cork
Veneers
Natural wood
Solid wood
Plywood
Chipboard
High-density fiberboard
Medium-density fireboard
Multiplex
3. Paper
For varying purposes, you can create laser marks on several paper materials. Laser marking offers a premium touch when designing business cards or other customizable paper products. The technology works with multiple paper types, such as cardboard, fine paper and art paper.
4. Metal
Metal is another popular laser engraving material because it's so versatile. Examples of the best metals for laser engraving are:
Gold
Titanium
Copper
Brass
Stainless steel
Steek
Aluminum
Iron
Silver
5. Plastic
Due to the various laser machines and technologies available, plastic markings have become renowned. Laser markings apply to plastic types such as:
Polyethylene
Silicone
Vinyl
Acrylic
Polycarbonate
Polyester
6. Glass
Glass laser marking is ideal for several glass products, including mirrors, windows, wine glasses, champagne flutes, crystals and bottles. The process is straightforward when you use the rotary engraving attachment. The unique feel laser engravings add to glasses make them perfect for various celebrations and gifts. Today's technology makes it possible to create several inscriptions on glass without microfractures.
7. Stone
Industries that work with stones can also benefit from laser engraving technologies. Other associated materials that use laser technology are ceramics, bricks, porcelain, marble, granite and natural stone. With the correct settings, you can create concave, convex and laser ablations in the form of texts, logos and other images on stone products.
Learn More About Laser Engravings With Telesis
Laser engraving technology is constantly evolving, offering a myriad of techniques for achieving multiple high-quality outcomes. This requires you to get closer to the development within the laser industry to help you integrate the best modern solutions into your business. The easiest way to do so is by partnering with a solutions provider with expertise in laser technology.
Telesis Technology, Inc. is equipped with the latest industry technologies, such as artificial intelligence and robotic integration, and is capable of transforming your business into a highly competitive venture. We provide solutions that add value to your business, regardless of the industry. We're a one-stop shop that takes care of all your needs, from customization to integration.
Schedule a demo today to learn more about our product line and how we can integrate them into your current system.