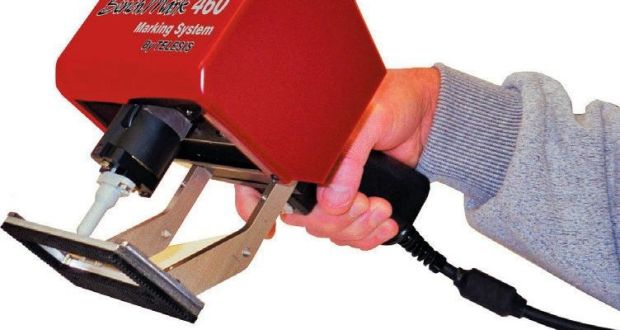 20 Dec

Telesis dot peen marker powers award-winning anti-crime initiative
Property Marking Ireland uses Telesis model to discourage theft
For Immediate Release                                                      
Property Marking Ireland (PMI) gives dot peen machines to communities

 

Telesis' BenchMark 460 model is the only marker used by PMI
PMI won the Social Entrepreneurs Ireland Award for the dot-peen initiative
CIRCLEVILLE, OHIO – Telesis Technologies, Inc. is the sole provider of dot peen markers for an anti-crime initiative that has swept the nation of Ireland.
A newly formed nonprofit agency, called Property Marking Ireland (PMI), is looking to reduce property crime by making it easier to trace stolen property and return recovered items to their rightful owners. At the center of the initiative are handheld, dot-peen markers that etch a unique EIRCODE  number into phones, computers, lawn equipment, bicycles, and other frequently stolen items. Every home and business in Ireland has a unique  EIRCODE, which is a sort of combination of Zip Code and street address.
 "Households and businesses are less likely to be victims of crime when they have their valuables security marked," according to Property Marking Ireland.
In October 2019, PMI was named one of six winners of the prestigious 
Social Entrepreneurs Ireland (SEI) Awards.
The SEI, launched in 2004, aims to promote methods that solve or ease social ills, Winners of the SEI award will split 240,000 Irish Pounds (roughly US$355,000) and participate in a nine-month accelerator program designed to help them scale their non-profit enterprise.
Property Marking Ireland (PMI) has already purchased 18 of Telesis' BenchMark 460 model, a handheld, fully programmable, battery operated dot-peen marker that's packaged in a rugged and convenient carrying case. The 460 model has a tungsten carbide-tipped pin that can "write" two characters per second to an accuracy of 0.006mm on a variety of metal and plastic surfaces.
For more information on Property Marking Ireland (PMI) and its use of the BenchMark 460 dot-peen marker, visit https://propertymarking.ie.
For more about the Social Entrepreneurs Ireland (SEI) Awards, visit https://socialentrepreneurs.ie/awards/.
For information on how the BenchMark 460 can help fight crime in your community, contact Telesis' Ralph Villiotti, sales director, at 412-956-5741.
Press Contact: Joe Weagraff, Marketing Manager, Telesis Technologies, Inc.
Phone: 740.420.6710 (direct) 614.440.8071 (mobile)
Email: Joe.Weagraff@telesistech.com


Discuss your part marking needs with an expert today  //  Download the Telesis Product Guide