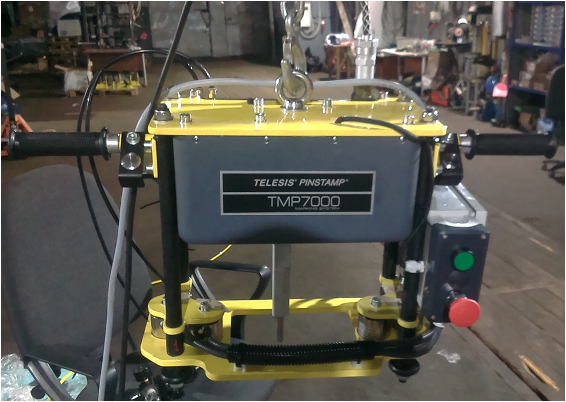 30 Sep

Deep Marking in Heavy Metal // Railway Industry
Marking Solutions for the Transportation Industry
In the last few years, we have started to look differently at transport, bearing in mind the environmental issues we face. More people ride bikes instead of drive cars for short trips. Additionally, there is a surge in electric transportation—bikes and scooters are becoming more omnipresent.
The departing president of the Dutch Railways, Roger van Boxtel, said that there has to be a better, faster, and cheaper network of trains between the biggest cities in Europe. There needs to be a more durable alternative to short haul flights. This is music to our ears, as a lot of new trains will be built and tracks constructed. This means a lot of parts will need to be marked for traceability and identification purposes.
The Railway Challenges  
In Russia, they have already started to build faster roads and trains to connect cities. Telesis Sales Manager of Russia and Former Soviet Republics, Vadim Zabolotnikov, met with the director of a rail plant at a trade show in Moscow. They booked an appointment to visit the facility and discuss the best way to permanently mark train wheels.
The challenge was to ensure a mark of 5 characters in 12 seconds and a minimum depth of 0.4mm in steel of hardness HB280 and HB320.
Dot Peen Solutions to Mark Heavy Metal
On site, Vadim first tried the handheld dot peen marker TMP4750 with MultiStrike™ functionality but the depth was short of the requirement. The TMP7000 was the next option to try. In the middle of the COVID-19 pandemic, it was quite challenging to get sample material, proceed with the tests, and send the material back to evaluate the depth. The Customer Lab recorded 0.5 to 0.7mm depth. We processed several marks achieved in different ways, with varying densities, pin strokes, and with multiple strikes and variable air pressures. The TMP7000 is the ultimate heavy metal marking system.
PINSTAMP® TMP7000 is a Robust Solution  
In June, Telesis won the tender thanks to our excellent performance. Due to the necessary customization of the TMP7000 to fit in with the production of the customer, our offer was slightly higher than the competition. But, the competition could not meet the customer's requirements.
The production of the three TMP7000 markers equipped with TMC470 PINSTAMP® controllers and custom portable tooling started immediately to meet the September delivery deadline.
The TMP7000 marker is a robust and powerful single-pin marker with a large marking window of 100 x 150mm. It is available as a fixed-mounted version, but for our application, we designed and produced with these characteristics:
Two handles with a 'Start Cycle' button
Head suspension hook
Balancer
Powerful positioning guard
Magnets with hold force up to 200kg
Special programming logic to prohibit printing without the magnets being activated
Emergency stop button placed on the handle of the marking head.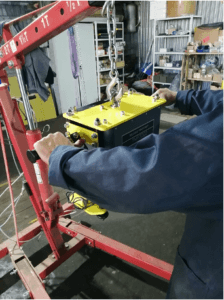 Dot peen technology can provide value in many rail industry projects. Telesis built its expertise and reputation offering rugged and reliable marking solutions. We constantly improve our marking systems to meet the ever-changing requirements of our clients.
Those clients also operate in an environment that is constantly changing. The demand for more train tracks, newer and better trains in combination with legal requirements on traceability create incredible opportunities for us as a designer and builder of marking systems. Whether it is laser, dot peen, or scribe, our marking systems can meet those challenges.