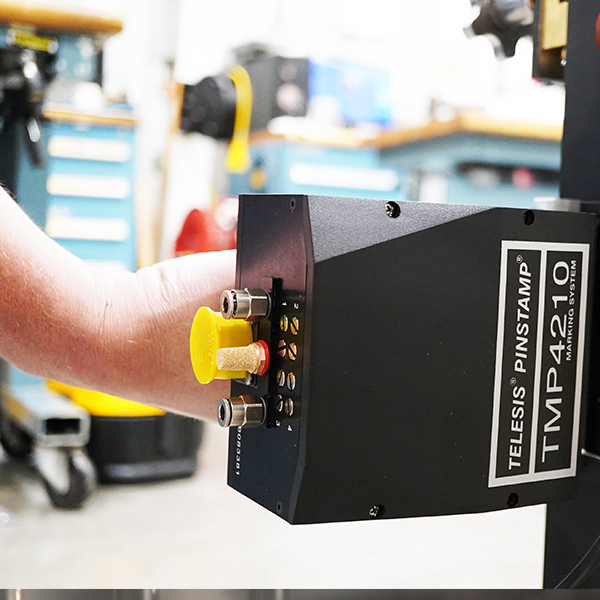 02 Jun

Using Hand-Held Dot Peen Markers for Challenging Industrial Applications
The Challenge
Sometimes parts are difficult to mark—you may have issues like:
The product is too hot to be marked during production
The material is too soft or fragile until it reaches its final state
There is not enough time or room for an additional process in the cell station
Identification may not occur until the end of the production run
The number may need to be changed or modified
The product size or shape may limited the ability to mark.
Regardless of the reason a piece is difficult to mark, the part still requires a unique identifier in production.
The Solution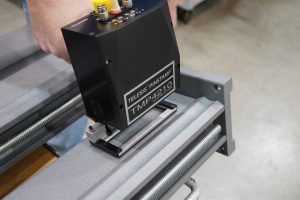 The solution is to employ the use of a hand-held dot peen marker. These markers easily apply a 2D matrix code, serial number, or other characters with the same power and quality a stationary marker would apply during an in-line process. You can take this marker directly to the part before, during, or after production. A hand-held marker is portable and flexible and able to reach multiple locations around a part.
The Telesis Hand-Held Markers
Telesis Technologies designs and manufactures an array of compact, lightweight hand-held dot peen markers to fit your application. Capable Dot Peen marks are available in Telesis' premium PINSTAMP® line and its entry level BenchMark® line.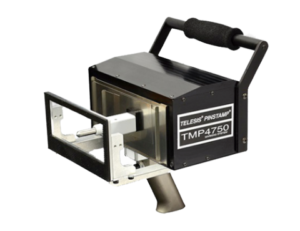 Not only does Telesis offer pneumatic versions of markers but also an electric hand-held marker. If you require it for your application, the company also offers a battery powered marker for off-grid marking.
All achieve the same depth and speed of a stationary or bench top mounted marker and in some cases—such as with a multi-pin marker—they can apply the mark more quickly. Another great feature is their ability to strike out an existing mark and make a new mark if there is a change in the information.
Two of the most popular hand-held markers are the TMP4500E and the TMP4750. The TMP4500E is an electric pin marker that has a rack and pinion platform making it fast and accurate. Its marking area is 25.4 x 101.6 mm.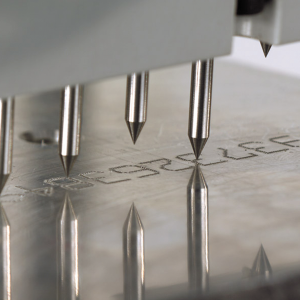 The TMP4750 is a similar hand-held marker in pneumatic format. The TMP4750 has a 40 mm x 140 mm marking window and the ability to reach depths from 0.03mm to 0.45mm. These are just a few of the hand-held options at Telesis.
Although the operator can easily hold the marker up to the part and mark, Telesis also offers customized grips, magnets, and clamps to hold your maker in any orientation. Even customers that have a marker on the line, purchase a hand-held marker as a backup to make sure that the products continue to roll of the line.