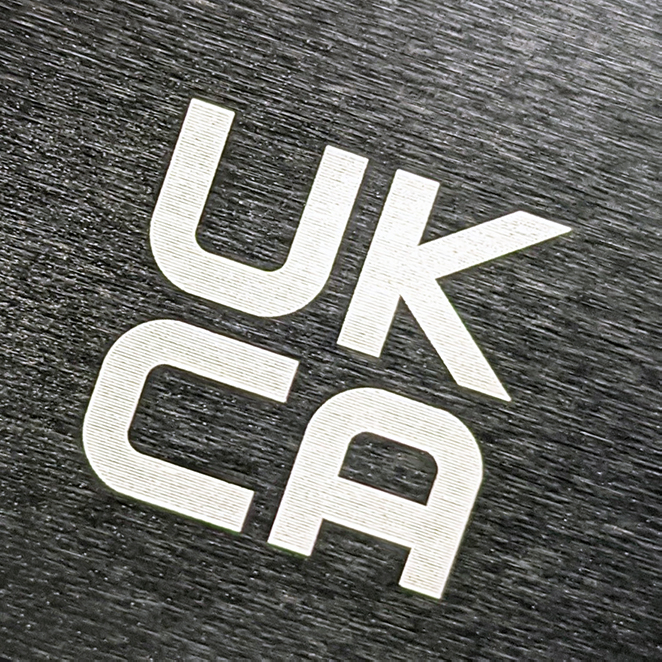 12 Apr

Mark UKCA Logo on Plastic, Metal, and Every Material with Laser Markers
Certification Mark vs. UKCA Mark
A Certification Mark is a permanent mark placed, labeled, or engraved onto a part that indicates the product meets or exceeds the required standards to sell a good within an geographic area. These marks certify the product conforms with safety, health and environmental protection standards.  The CE mark is the standard for the EU/European Economic Area.
The United Kingdom previously used this standard for conformity of their products. As of January 1, 2021, the UK no longer uses the CE marks as its standard. The UK has developed their own conformity standard that they call UKCA (UK Conformity Assessed). After January 1, 2022, products sold within the Great Britain must have the UKCA mark on the product to verify conformity.
The Manufacturing Challenge
This new standard presents a challenge for manufacturers—especially when it comes to the part marking process. Now they must mark their parts with the CE logo AND the UKCA logo. Additionally, current inventory on-hand will need to be remarked to add the UKCA logo. New products manufactured will need to add the marking to the assembly of the product from this point forward.
Labels will need to be redesigned and completing direct part marking will require an additional step. All product marking will need to be reprogrammed to accommodate the marks. By adding additional marking this is could add additional cycle time to the marking process.
What Type of Markers to Use
Some markers may not be capable of marking the 2 lines of text or a logo for the UKCA mark. This would require an update to the marker and a possible change in the assembly process. A different area of the part may need to be marked to have room for the additional logo. Older markers may need to be replaced to accommodate the new logo.
It may be time to invest in a marking process the decreases cycle time, offers better quality marking or automates a cell to increase your return on the investment.
Laser Marking/Engraving Systems
Lasers give incredible flexibility in marking your parts. Not only can the laser add a mark to your current labels but often the labels can be eliminated. Lasers have the ability to mark on nearly every material from plastic to stainless steel. They can eliminate and replace ink jet marking. Lasers produce—in many cases—more contrast and higher quality text and graphics than ink jet printers, with the added benefit of the elimination of consumables. This is much better for the environment as well as the reduced cost of ink.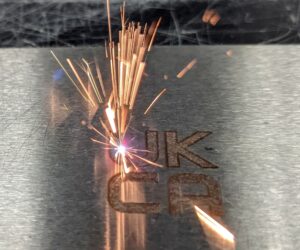 Telesis Technologies offers the complete package and can develop a marking process that will save time, money and reduce errors in the process. Telesis offers laser markers that drastically reduce the cycle time or dot peen machines that can place a very high-quality dot mark at incredible speeds. Creating solutions is what Telesis does best.